Specification
| MOQ | 500pcs. More quantity, more favorable price. |
| --- | --- |
| Material | PET/VMPET/PE or customized. |
| Size | 60Wx175H mm,Accept customized size |
| Production time | |
| Place of Origin | |
| Surface Handling | Gravure printing and Surface Handling |
| Material Structure | |
| Printing | |
| Supply Ability | 100000 Piece/Pieces per Day |
Pet Food Bags That Will Make Your Pet Food Fly Off the Shelf
While the selection and caliber of items individuals purchase for their beloved pets is important, the protective packaging that encloses the contents plays an equally important role in determining purchase decisions. Working with the right pet food packaging manufacturer is critical to ensuring that your pet food, treats, toys and supplements stand out on store shelves and resonate with consumers. Whether you are looking for cat food packaging solutions or dog treat packaging supplies, we are here to help.
Easy to Use
Pet food packaging can be easily opened and closed without using scissors or other tools, which reduces the trouble and danger of the operation.
Keep Fresh
Pet food bags can keep food fresh and moist, allowing pets to enjoy more delicious food.
Reusable
With the improvement of people's environmental awareness, more and more people are concerned about the harm of plastic to the environment. That's why our pet food bags are made of materials that can reduce the risk to the environment to a minimum.
Assortment of pet food packaging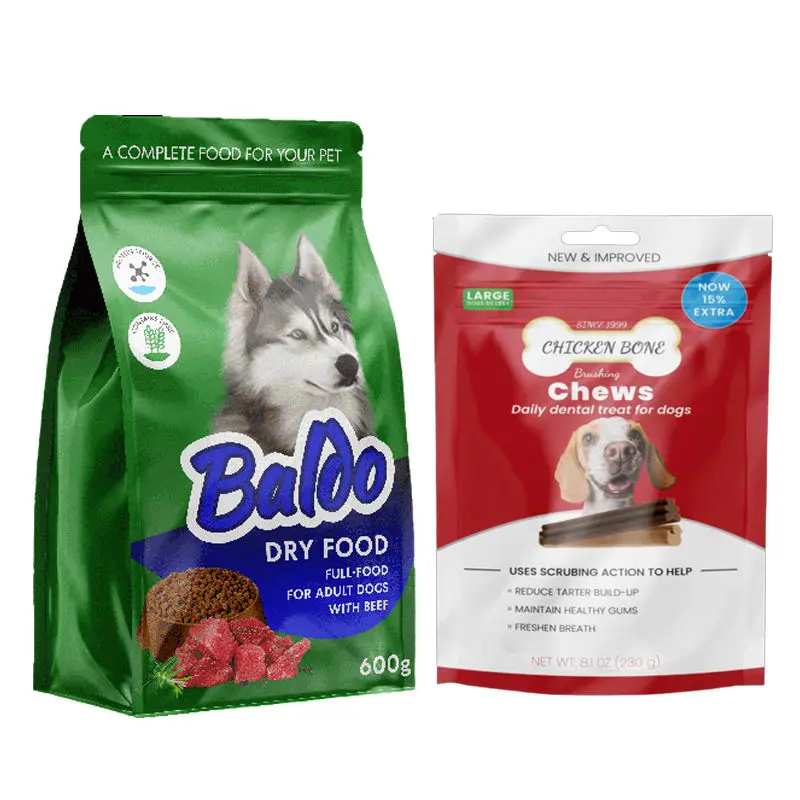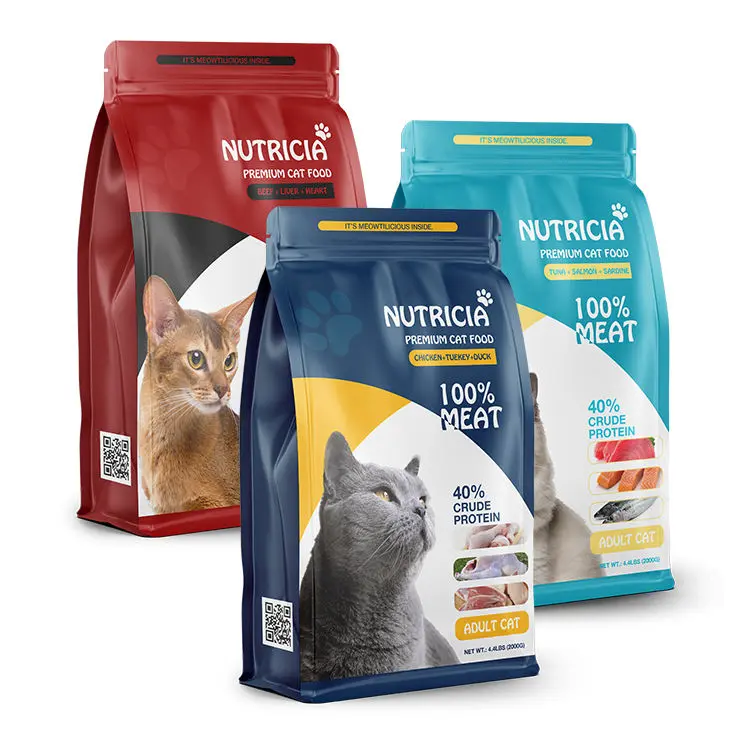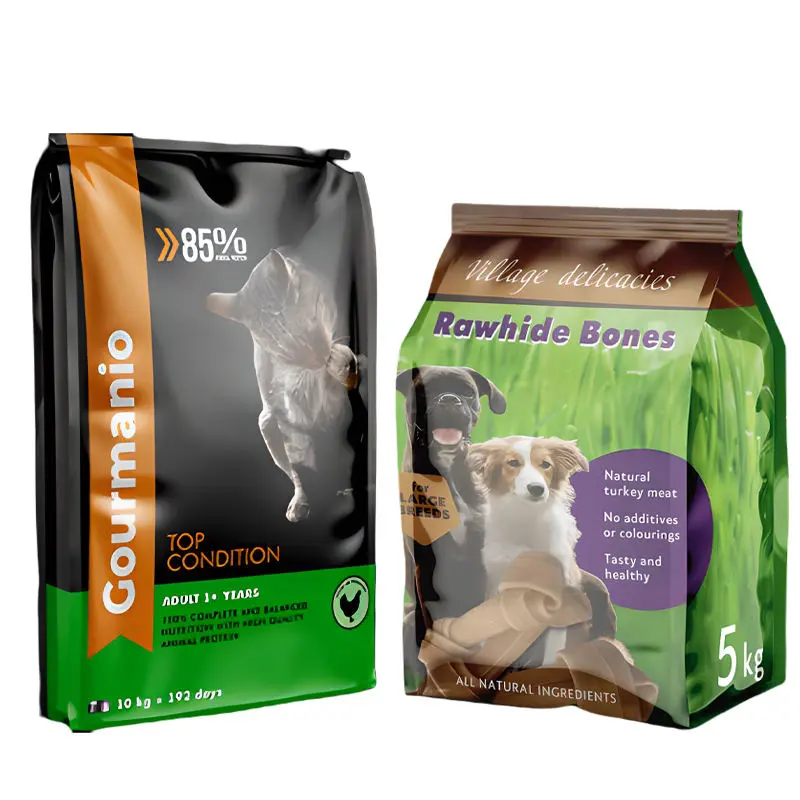 Packaging is the most important part of a brand, good packaging can greatly increase your product sales. Whether you value the preservation function of the pet food bags, the ease of use, or both. We've got a pet food bag that's right for you. If you don't know how to start or haven't designed yet, please contact us, our world's top designers will design unique and exquisite pet food packaging bags for you.
Q: What materials are commonly used for pet food packaging?
A: Pet food packaging is often made from materials such as plastic, including polyethylene terephthalate (PET) and high-density polyethylene (HDPE), as well as paper and aluminum foil.
Q: Are your pet food packaging materials safe for pets?
A: Yes, our pet food packaging materials are designed to be safe for pets. We use food-grade materials that comply with relevant safety regulations and standards.
Q: Can your pet food packaging be resealed?
A: Yes, many of our pet food packaging options feature resealable closures, such as zippers or Velcro, to help maintain freshness and make it convenient for pet owners to store unused portions.
Q: Is your pet food packaging environmentally friendly?
A: We offer environmentally friendly options for pet food packaging, such as recyclable materials and biodegradable packaging solutions. We prioritize sustainability and can provide packaging options that align with your environmental goals.
Q: Can you customize the design and printing on the pet food packaging?
A: Yes, we offer customization services for pet food packaging. You can choose from various design options, including colors, logos, and product information, to create packaging that reflects your brand and attracts customers.
Q: How do I determine the right size and shape for my pet food packaging?
A: Our team can work with you to determine the appropriate size and shape for your pet food packaging based on factors such as the product's volume, weight, and storage requirements. We can provide samples and prototypes to help you make an informed decision.
Q: What is the minimum order quantity for pet food packaging?
A: The minimum order quantity for pet food packaging depends on the specific packaging type, size, and customization requirements. Our sales team can provide you with detailed information based on your specific needs.
Q: Can you provide samples of your pet food packaging?
A: Yes, we can provide samples of our pet food packaging upon request. Please contact our sales team to discuss your sample requirements.